Your partner for high-performance generators in industry, construction, transportation and the military
We produce brushless synchronous generators up to 550 kVA with an enhanced protection class.
The electronic generator controllers can be integrated with existing motor management systems through a CAN interface.
> Find out more about our series
KWG saves the oak
Everyone from Lindach knows the 21m tall giant - the oak at the entrance to the village from the direction of Leinzell. This tree is over 100 years old and has seen more than most living people. But a dreaded pest has been trying to bring the mighty tree down for some time: the oak processionary moth. These little insects suck the sap of life out of the tree and over time make it sick and rotten. In addition, their hairs are harmful to humans. Even the smallest touch can cause tremendous pain.
So far, nobody has felt responsible for the tree. If it stays that way, the tree will not reproduce any new foliage in 5-10 years and will eventually turn to deadwood. It is high time to step in. Fortunately for the tree, KW-Generator has taken responsibility for the tree and takes care of its well-being.
First aid has already been given to the tree: the oak processionary moths have already been sprayed with a biological enzyme by an expert company, which is toxic to the pests but is harmless to humans and nature. As a next step, the nests of the pests were vacuumed with large suckers. In addition, the branches that had already suffered too much damage were sawed off. From now on you have to spray against the pests once a year, the tree does the rest itself.
"In an estimated five years, the tree will find its way back to its original health and beauty and will continue to be a living landmark for the Lindach district," says Michael Kurz (Technical Management).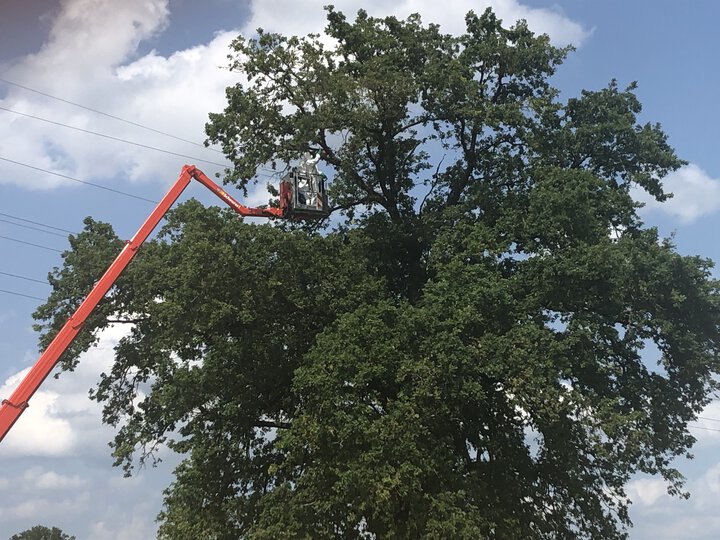 We produce "Made in Germany" quality
From development to series production, we develop your generator specially to your requirements. Our high-precision production uses the latest technology at the Schwäbish Gmünd facility in South Germany
> Further information